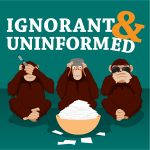 It's the anti-Hitler question…
The timing on Ben freezing is excellent.
Geoff leans on The Treehouse of Horrors.
Max makes for mutual assured destruction.
Turtledove and Reverse-Turtledoving.
***
Topic – You go back into history for 15 minutes with the express goal of making the world worse. When, where, why?
From – St Jaysopher
***