Ignorant

&

Uninformed
Your topics.
Our show.
Every week.
Boosh and/or Ka-kow and Welcome!
This isn't so much where the magic happens as it is where the magic is displayed. Ya dig? Good. We figured you would.
You're smart.
And you've got a sense of humor.
Else you wouldn't be here kickin' it with us.
Most Recent EpiDoses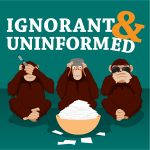 EpiDose 593- Have You Heard

Sep 21, 2023 • 32:06

Bird is the word, at least for the last bit of the EpiDose. Before that it's Ben's love of Hera Syndulla Oh, and you don't want none of BG3. It takes all your bad feelings and turns them into good feelings.  "It's like putting on an old pair of shoes…

EpiDose 592- One Thousand Words

Sep 14, 2023 • 36:14

Shout out, St. Jay! An end to Max's 11-year streak. Geoff rediscovers his photographic roots. Jurassic Park is real.  ps – The bible is basically fan-fic, isn't it?  *** Submit Your Topic, Get A Free Shirt  @IgandUn – ignorantanduninformed@gmail.com

EpiDose 591- Fast Food Fun and Facts

Sep 7, 2023 • 31:47

Taco Bell, Wendy's, Baskin-Robins, McDonald's and whatever Hunt Brothers Pizza is. The busiest location of one of these is in Anchorage, Alaska.  Which one do you think it is?  How long would you wait for the best burger and fries in the world?  ***  Submit Your Topic, Get A Free…