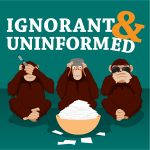 It's about to get real nerdy.
Geoff says – Know the rules/terminology, own your rookie status, ask lots of questions
Ben says – Be a team player, be flexible, play a fighter
Max says – Like the people you're playing with, don't solo all over the story, bring your sense of humor
Ps – ALWAYS REMEMBER PITONS!!!!
***
Topic – What are your best 3 pieces of advice for new ttrpg players?
From – St. Jaysopher
***