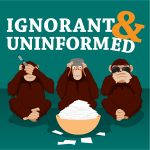 What's the longest you've waited in line?
What was it for?
Was it worth it?
Max regularly gets mistaken for "the help."
Ben agrees with facts.
Geoff drops a bomb and it all make sense now…
"Nothing draws a crowd like a crowd."
***
Topic – Why do people wait in line at Starbucks?
From – St Jaysopher, of Twitter
***