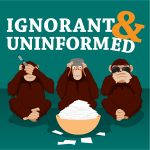 We've all seen plenty we don't. Are there any you do?
Max goes UHF
Geoff says Phantom Menace
Ben wants Flight of the Navigator or Last Starfighter
Everyone's onboard with a James Bond approach to Indiana Jones and The Dark Side of Toon Town.
"We must go seek the wisdom of the Iganun…"
***
Topic – IS there a movie from your childhood you'd like to see get remade?
From – Rachel Bender