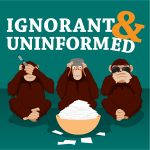 Welp, it's been quite a year, hasn't it?
Lessons learned:
– I can be happy with less
– Prioritizing mental health
– Filling your time in meaningful ways.
Changes made:
– Diet
– Giving yourself the things you need
– Finding balance
Now – if only Geoff could find his coffee creamer…
***
Topic – Alright, it's been a year. What have you learned over the course of the pandemic? Are there any supplies you bought early and still haven't used?
From – Gary