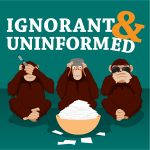 (Still really good at counting…)
St. Audrey has us discussing corruption and anarchy.
It's corporate nations, gas station bathrooms, and the politicization of empathy.
Plus – St Jaysopher's here!
Links
– Clone High – Here
– Revisionist History on lotteries – Here
***
Topic – Which is worse – a horribly corrupt government or no government?
From – St. Tawdry Hipburn