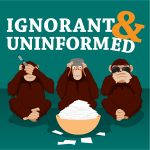 St. Rachel is a natural fit.
Geoff votes with the shareholders
Max questions the joy of final-victory.
Ben's history with Star Wars is full of holes.
And…<drum roll> …the award for greatest loss of the last two decades goes to…
Patience.
***
Topic – Who or what has had the greatest victory in the last 20 years?
From – Jay