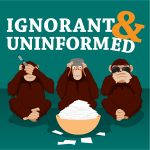 Yet another shining example of why we named the show what we did.
Who knew the Battle of Versailles was a fashion show in the 70s?
It's the similarities between birth and death, how experience is our best (and possibly only) real teacher, and the present being a funhouse mirror version of history.
We are definitely overrated.
***
Topic – The Battle of Versailles…was it overrated?
From – Jill Parzych