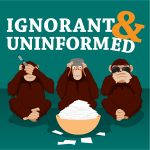 Submit Your Topic!  –  @IgandUn  –  topics@ignorantanduninformed.com
Tramp is a complicated word.
It hasn't always been derogatory.
It used to mean a vagrant or beggar.
– or –
"That's why the lady is a cargo ship."
Has there ever been a correlation between promiscuity and the location of a tattoo?
ps – Geoff and Max are huge tramps.
***
Topic – What does having a tramp stamp really say about you? (Also is tramp stamp really an ok term or is it anti-female)?
From – Dr. Zooks