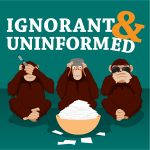 Submit Your Topic!  –  @IgandUn  –  topics@ignorantanduninformed.com
Misty wants to know how living forever would change the way we lived.
That depends.
Do we stop aging at our prime or do we keep getting older and older and not die?
Either way – it'd be different.
Or would it?
***
Topic – What if we didn't die? How different would our lives be?
From – Misty