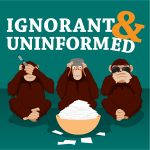 It turns out that being "gangsta" at something has a lot to do with the pond you're swimming in.
10,000 hours = 59 weeks, nonstop.
The most wizard wizard gets the electrum medal.
Somehow this episode is mostly about the Olympics and competitive eating.
***
Topic –
What are you Gangsta at? 
From
– Diana