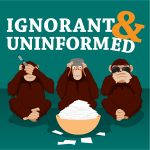 Pooh is a sloppy mess.
Kermit is scrappier and possesses a superior will.
Buuuut…if the prize were honey….
What Poohville lacks in "fight" it makes up for in "mental illness."
Is Jeopardy easier or are we smarter?
***
Topic –
Who wins ins a fight between kermit the frog and winnie the pooh? 
From
– Jay