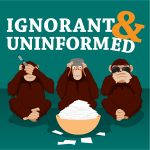 Chef Mike is back!
And this week's topic is up for interpretation.
It's either a phrase for throwing in the towel or one for diving in.
It's all how you look at it.
Plus…
– The reason Ben doesn't smoke weed
– Emotional support peacocks
Did you know eels are shellfish?
***
Topic –
Why not just say "Fuck It?" 
From
– Kevin Brown