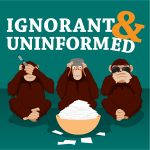 This week we're trying to get out of our own head's.
And into someone else's.
But whose?
Our glorious, fascist supreme overlord?
Elon Musk?
Maclunkey?
Ps – George Lucas In Love is totally worth the watch.
***
Topic –
If you could be inside the head of anyone alive today, who would it be and why?
From
– Dave Weil