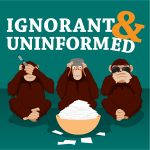 Welcome to our 4ooth episode where we break all the rules.
***** ALLL OF THE STAR WARS SPOILERS AHEAD *****
This week we choose the topic, turn off the clock, and just go.
Geoff needs therapy.
Max was shattered by the first two.
Ben is a true fan and loves it all.
***
Topic – The Rise of Skywalker
From – Us