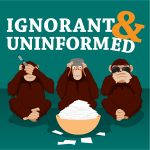 Juanito Poquito and his best friend, Gracie-lue Freebush, swing through the studio.
And it's a good thing because they're the ones with stories to tell.
(Like the luckiest worst day of his life.)
Learn about:
– Dogs chasing rabbits
– Classic overthinks
– Managing expectations
– Equity
– All encounters being meaningful.
Ps – It's always nice to have a sherpa or a guide
***
Topic – Threesomes – can they be meaningful or just kinky?
From – Kerri
***