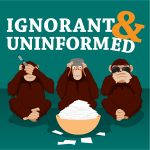 Everyone welcome back the always-modest, John Schorling.
Nick's question has us talking about all sorts of things.
Shout out:
 – Bone Thugs
 – Twista
 – Benji
 – Biz Markie
 – Karaoke
 – Scat Choruses
***
***
Topic – You ever notice how you never get a song stuck in your head that you know all the words to. It's always like Bone Thugs N Harmony or Twista and no one knows all the words to any of those songs…except that one guy that used to sell weed in high school. Shit. I just remembered I need to get a bag… What's the shadiest drug deal you've ever been a part of?

 
From –
Nick Albu