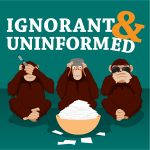 Anything that's advanced enough looks like magic…
Placebos are powerful.
This week it's some hippie healing stuff, which means Max is front and center.
Learn about the power of lasers, microwaves, and New (or if you're Geoff, Clean) Sock Day.
Did you know Ben is a super taster?
Ps – In case you were wondering – the answer is bioluminescence and a rosier scent.
***
Topic – What happens if I use Max's laser on my junk?
From –  Adam & Jonah