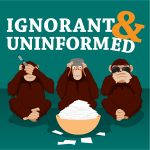 Pat wants to know why our economy is based on consumption.
We want to know what blood-splattered handkerchiefs have to do with anything.
The thing is, aren't all economies tuberculosis based?
What would happen if we took away desire and leveled the playing field with a Star Trek type situation?
Better listen in to find out.
***
Topic – Why is the American economy based on consumption?
From – Patrick O'Grady