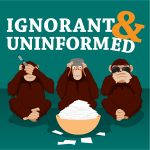 If only we knew…
And the worst part is we should have. 
When Blox handed Max the topic, Max totally asked him what the Kessler Syndrome was. And then forgot. 
Good thing Geoff is awesome and Ben is the best.
Shout outs to: 
Danielle and Rachel for trying to make us less of what we are. 
MiniWarGaming and Canada for allowing Ben to dream.
All the other syndromes out there (you know who you are).
Ignorant and Advent – there's still time to participate. Don't miss out.
***
Topic – Should we be concerned about the Kessler Syndrome? 
From – Blox