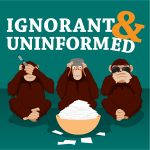 Our prodigal host-son returns!
Benji Pickens is back, along with outdoor dave, to discuss empathy, courtesy of Dr. Zooks.
Hollywood has an interesting perspective.
Max preaches fiction.
Dave is no longer special.
And Benji would totally send that tweet.
Listen in and learn about…
– The definition of empathy.
– Crappy super powers.
– The really dark and twisted places Mindhunter can take you.
– How psychologists are like Dr. Dre.
***
Topic – Can you teach empathy?
From – Dr. Zooks