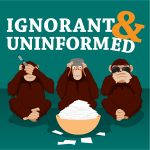 Happy 6th Birthday to us!
In order to mark the occasion we have a nice, light offering from McKenzie…
(So, if you want to listen to three dudes in their thirties talk about God – get a wiggle on and listen.)
Max moderates.
Hollywood buttes up our guest.
And master story teller, Nick Hale, comes in launching all sorts of wisdom bombs.
Save vs. knowledge or else!
***
Topic – Do you believe in God? If not – why?
From – McKenzie