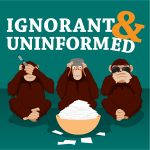 Awwww, yeah! Lori has us talking about sex. She wants to know about faking orgasms. Geoff prefers honesty and theatrics. Hollywood is into hullabaloo and lies. And Max is gooey and catches feelings. Remember :
1) Condoms make it way easier for men to fake it. 2) Covers and books do not always align. 3) Dancing in clubs is sometimes like having sex with your clothes on. – Red solo cup parties, expectations in sex, too much of a good thing, channeling chris farley, the sensitive male ego, Chandler and ross, and ridiculous lies this week on I and U. Did you tell that girl you were a stripper?!
***
Topic – Can men fake orgasms? Do they know when women do?
From – Lori