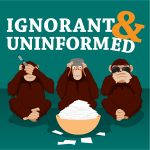 Is Tupac still alive? Is he kicking it on an island somewhere? Is Elvis there? Are they eating peanut-butter-honey-banana sandwiches? D-trayne wants to know. Special guest, Outdoor Dave, is concerned about his squad. Max is out of touch. And Hollywood breaks our promise. Remember :
1) Order begets cahos and chaos begets order. 2) Some celebrities become so super-normal and greater than life that it is hard to accept their death. 3) Mother-in-laws are above garages and groundkeepers live down below. – This week is social media, hip lingo, the intimacy of opposites, toxic fans, basement trolls, theme songs, and Frisky Dingo. I and U. Heroes get remembered but legends never die.
***
Topic – Is Tupac still alive?
From – D Trayne