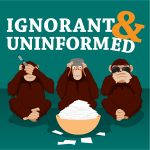 Why are people so content to follow rules and laws? How come there is not more anarchy and revolution? Lawerence wants to know. Max worries about complacency. Geoff is over marvel movies. And Hollywood loves the spotlight. Remember :
1) We are not out thoughts. 2) There is no longer anything that outrages us into action. 3) The only way to fill the empty hole in your heart is with stuff. – This week is vsauce, our evolutionary roots, safety, shame, our lizard brains, diplomatic trenches, 90s movie trailers, and the Star Wars Christmas special. I and U. Sheboygan – the land of dreams.
***
Topic – Why do we follow rules and laws?
From – L Train