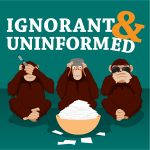 Never, in 5.5 years of doing the show have we ever had a guest like this. Perfect too, because the topic was all about luck. Max has lived a charmed life. Geoff courts unluck with 6-team parlays. And the Rainmaker just is. Remember :
1) Better hang on to that thing and keep rolling. 2) One-nineteenth is an odd fraction, genetically speaking. 3) Something about a skinbone? – Listen and learn about technology, flooded kitchens, calendar wisdom, bayou blood, purity, gambling problems, Kobe Bryant, narrow escapes, head injuries, and 4-wheeler jousting tournaments. I and U. Honk-honk clowns.
***
Topic – What is the unluckiest thing that's ever happened to you?
From – Nick Hale