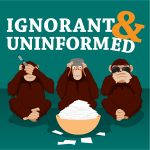 Just in time for thanksgiving! We all have things to be grateful for. So appreciate and enjoy. Outdoor dave wants to know about individual effort and environmental impact. Geoff and his slow jams do not care about mother earth. Max eats his hippie words. And Hollywood delves deep into his shameful past. Remember :
1) Litterbug was a corporate marketing campaign. 2) We need to pay more attention to r one and two. 3) Sexuality is a spectrum. — This week is the tragedy of the commons, adam ruins everything, ziplock bags, stegosaurus songs, consumerism, non-binary bars, urban legends, and the new hummus. I and U. Close the loop!
***
Topic – Does individual contributions make a difference to environmental impact?
From – Outdoor Dave