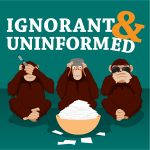 What is the difference between a dictator and a warlord? What about a king? Are all dictators bad? More importantly – which one is your favorite? Danielle wants to know. Geoff decides to go biblical. Hollywood likes pulling dusty ones out in North Korea. And Max claims a cliche. Remember :
1) 1 in 7 of us are Khans. 2) Braveheart was a documentary. 3) God chilled way out after he got laid and had a kid. — This week is unchecked power, semantics, the il-est, our mind-bending multiverse, Mohawks, melta guns, voldemort, george rr martin, fan fiction, and the song of ice and fire. I and U. No one cares about lady stoneheart.
***
Topic – Out of all the awful dictators there have been, who is your favorite?
From – Danielle West