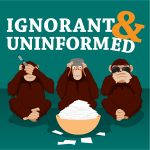 Alright – who is more evil – Kanye west or the wicked witch of the west? Cody Pendleton wants to know. Benji is out of the studio but Geoff sit in and drops some wicked knowledge. Hollywood casts himself in different musicals. And Max literally learns The Wiz exists. Remember :
1) Usually what we call evil is just misunderstood. 2) People like prequels because they offer explanations. 3) George Bush does not care about black people. — This week is theater, narcissism, Hamilton, southpark, the alt-right, gay fish, flat earthers, game of thrones, Hitchcock, and frank franco. I and U. You cannot fax glitter.
***
Topic – Who is more evil: the Wicked Witch of the West or Kanye West?
From – Cody Pendleton