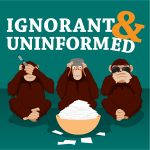 Are you afraid of failure? What about success? Is there a difference between the two? Are you sure? Tim Mahon wants to know. Hollywood is on hiatus but we do our best. Max believes in our limited vantage point and has a hunch about sports. Meanwhile it is all about reasonable goals for Benji. Remember :
1) Anytime we feel as though we are facing some sort of binary choice – it is a call for us to bring more imagination to our situation. 2) Success and failure are perceptions based on expectations. 3) Going with the flow means letting go of your plans for success. — This week is comfort, disappointment vs. being right, global vs. local causes, subjective feelings vs. objective measures, and graduated spectrums. I and U. Put on your warm socks.
***
Topic – Why are people more scared of failing than succeeding?
From – Tim Mahon