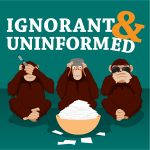 What is the line between funny and mean? Jerm Jam wants to know the best practical jokes we have seen and done. Benji could never be a dictator. Max once faked a wedding and almost got deported. And Hollywood is kind of cruel. Remember :
1) Swallowtown is a not a real place. 2) How other people interpret our actions and words is not always how we mean them to be. 3) Cars are a liability. — This week is fake stds, extreme reactions, poop, sexual thank you notes, schemes, stunts, petty theft, Carrie, shaving gel, biscuiting, and a joke that lasted for 15 years. I and U. Does anyone know how to fix a toilet?
***
Topic – What is the best prank you've seen, implemented, or experienced?
From – Jeremy Taylor