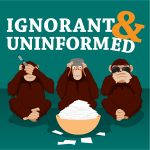 Do you have any morning routines? What about personal rituals? Lisa wants to know. Sadly, Benji is our of the studio so things get a bit deep. Hollywood is alone in his principles with his perfect morning. And Max is high maintenance. Technical note – there is some static around the 30 minute mark. Remember :
1) Alarm clocks are an evil way to wake up. 2) Lots of rituals revolve around food. 3) The violin line in "I want you back" is an overlooked gem. – This week is Rick and Morty, affirmations, limiting beliefs, meditation, Pastor Joel, sleep tetris, lounging til noon, Dewy Cox, acting and emotions, and Mr Cookie face. I and U. I need a stadium full of red heads surrounded by people ho kind of look like my father.
***
Topic – Do you have any morning rituals? Do you think they make your day better?
From – Lisa O'Grady