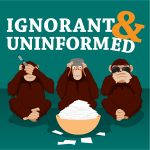 Look out! This week is all gender and bathrooms. But not how you think. Should men put the seat down in a unisex bathroom? Linda wants to know. Guest host, Nick Hale, was outgunned at an early age. Max is an arbitrator par excellence. And Hollywood is a grill fork barbarian. Remember :
1) Confusing familiar with normal happens a lot. 2) Baseline bias gives the patriarchy its inertia. 3) Raison flakes and pancakes are the cornerstone of a healthy diet. — Cleanliness, sink smell, college horror stories, male privilege, trade offs, expectations, gameshow hosts, and downward spiral double helixes on I and U. Toilet seats for hair art.
***
Topic – Should men put the seat own in a unisex bathroom?
From – Linda Sirak