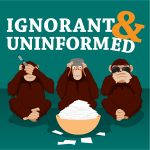 Hard to believe – but with this EpiDose – Ignorant and Uninformed turns 5 years old.
Thanks for the all the topics and support.
In honor of the occasion we have one from Tawdry Hipburn about The Simpsons. Remember :
1) It is not about whether you win or lose. It is whether you win. 2) You do not know what you have until it is gone. 3) Never try. — This week is social media, cartoon history, the board game our president made, stampy, phil hartman, The Springfield Isotopes, Futurama, Game of Thrones, creative integrity, and the perfect contestant. I and U. Facetext us!
***
Topic – How many of Homer Simpson's jobs can you name? Which is your favorite?
From – Tawdry Hipburn