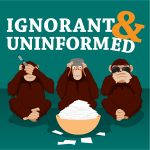 Time to talk about sex, love, reputation, and the double standards that go with them. Good friend, Tawdry Hipburn, asks a question about promiscuity and frequency. But our answer has more to do with mental state. Hollywood is a knight is shining armor. Max is a junkie. And no one tells Benji how to raise his daughter. Remember :
1) When most species mate, the women do the choosing. 2) Moving somewhere new and starting fresh are real things. 3) All you have to do to get laid is lower your standards. – This week is sexual sabbaticals, oral instruction, the smell of desperation, power, shaming, cultural condition, and t-shirt cannons. I and U. Get your presidential tie clips.
***
Topic – How many months does it take of not getting laid before someone isn't a WHORE?!
From – Tawdry Hipburn