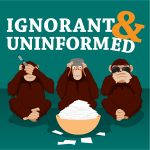 First and foremost – a heartfelt apology. Women, we failed you and we are sorry. Jenny Sirak wants to know who, from the whole of history, would we most like to go out and get drunk with. The cast of Golden Girls? The ratpack? An astronaut? Max looks to a lit night with literature. Guest host, Geoff Watson, posts up with prince at paisley park. And Hollywood wants to wake up next to Michelle Obama. Remember :
1) Hemingway was probably a sad drunk. 2) Orson Wells knows how to sell your damn frozen peas. 3) Dave Chapel will blow your drunk mind. — This week is sit-com kitchens, famous politicians, civil rights leaders, musicians, celebrity chefs, athletes, scientists, actors, comedians, the cast of the original star trek, and the gnostic gospels. I and U. Sorry, Grover Cleveland.
***
Topic – Who would you most like to go our and get drunk with? They can be alive, dead, or anywhere in between?
From – Jenny Holtz