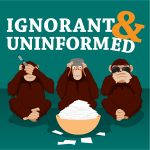 If you could conquer the world, would you want to? Really? What if you were given the opportunity to carry the one ring into Mordor? Could you? This is not exactly what Riley wanted to know but it is close enough. Max tries to be funny and fails. Hollywood is into cow porn. And Benji is lost in space. Remember :
1) You are not a skywalker. 2) The ring is a scapegoat. 3) Sometimes you have to touch the stove for yourself. — This week is storytelling, allegory, Superman, Jesus, Spiderman, Meryl Streep, the man in the yellow hat, Boss Hogwarts, and the wonders of the ancient world. I and U. This is the sound of being touched by destiny.
***
Topic – Is the Hobbit really just a tale of the armed upper middle class taking advantage of the mentally ill?
From – Matt Riley