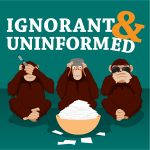 This week our good friend, Tawdry Hipburn, asks the three most common questions locals hear from tourists in Summit County, CO. Geoff Watson is back for more stunt ditch duck taming. Hollywood is an amateur biologist and Arnold Palmer makes Max feel Asian. Remember :
1) Sweet Tea is a religion. 2) It is easier to follow someone else than to blaze your own trail. 3) Evolution is a tree, not a chain. — Local ignorance, tips for mountain travel, hospitality vs friendliness, summer drinks, winter sports, altitudinal evolution, dog breeds, and horse duck ladders. I and U. They all start as cows.
***
Topic – Was Smurfette a whore?
From – Nick Albu