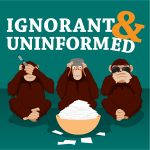 Hell yeah, Mindi Thrash. Thank you for the topic. It was great! If you had five seconds to plant one idea in the hearts and minds of all the people of Earth, what would it be? Benji wants everyone to watch movies. Hollywood wants us to pay it forward. And Max just wants to spray everyone with his pink happy goo. Remember :
1) Rom-coms create stalkers. 2) There is no time to sweat the petty stuff. 3) Do not give Kayne your 5 seconds. — This week features Revenge of the Nerds, Ghostbusters 2, Breakin 2 Electric Boogaloo, the biggest water park in the world, the inner dialogue of dogs, a ton of pressure, and a little regret. I and U. Your love is lifting me higher
***
Topic – If, for five seconds you had the omnipotent power to simultaneously whisper something into the ears of human on earth, what would it be?
From – Mindi Thrash