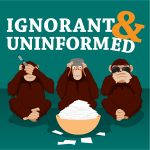 If you could go back in time – where would you go? Would you change anything? Would you kill Hitler? Our homie, Felipe Nunez, wants to know. We are sadly sans Hollywood and his rollerblades, but it's cool. Benji is playing on his phone and has a shocking reveal. Max could be a stone-cold time-traveling killer. Remember :
1) Truth is in the middle. 2) Trying to make things better usually ends with making them worse. 3) The front lines are dangerous and couches aren't safe. – It's cliches, practical considerations when traveling through time, the what-ifs of life, the veracity of the written word then and now, and the evil you know. I and U. Give it up for Cinnamon!
***
Topic – If you could go back in time and change the past where would you go?
From – Felipe Nunez