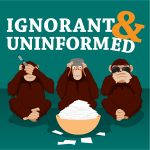 A fake turtle neck? A waistband with a flap? A gossip column? What exactly is a "dickens?" It probably has to do with Charles, right? Maybe author, financial advisor, and all around good guy, Gary Sirak knows. (He doesn't.) Max isn't going to do your legwork. Hollywood and his father have matching Christmas outfits. And Benji assumes all Jessicas are his wife. Remember :
1) Language is a living thing. 2) Don't bother to learn things. History is all lies, speculation, and storytelling. 3) Cats love tongues. – It's inventing versus cataloguing, the printing process, 1st editions, Shakespeare scripts and the authorship controversy, plagiarism in the past, and pawn star moments. I and U. Cavemen really just want to party, buuuudy!
***
Topic – What the hell is a dickens?
From – Jess