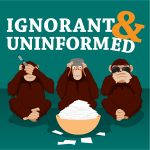 Our homie abroad, Jeremy Taylor, wants to hear some of our creepiest or scariest unexplained stories. So we figured we'd oblige. Max moved out of a house because it was haunted. Benji once had to ask himself if he was a werewolf. And Hollywood's got a story from Gettysberg. Remember :
1) You're always safe in the lobby. 2) We know for a fact there is more information in the world than our five senses can perceive. 3) There's a lot of history down that there road. – It's other dimensions, soggy hands, multi-sensory and multi-person hallucinations, the definition of a soul, spectrums of light, the conservation of energy, mental hospitals, bloody women on the side of the road, and James from the 15th Alabama. I and U. I ain't afraid of no…
***
Topic – What's the scariest or creepiest experience you've ever had?
From – Jeremy Taylor