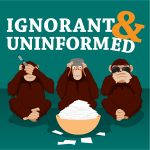 What is it about music that brings people together? What is it about crowds that makes whatever you're doing more fun? Can the energy in a room affect the performance on stage? Our homie, Uday, wants to know. Hollywood goes all hippy-dippy and is hard from laughing. Benji's feisty and all about headspace. And Max is too self-conscious with stage fright. Remember :
1) Music is the universal language. 2) Listening to music is a whole brain activity. 3) The difference between anxiety and excitement is the story you tell yourself. – It's momentum in sports, the transitive properties of energy, the exponential power of unification, points of first contact, Brett Dennen, three different dance movies, the Get Down, and face magic. I and U. These cheesebiscuits are amazing!
***
Topic – What is it about music that is synergistic and brings people together?
From – Uday