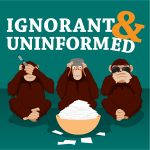 Are we the first? The last? The only? Do you even think it's possible for all the governments of the world to cooperate? This week we're talking about extraterrestrial life. Hollywood identifies as a apache attack chopper. Benji is really concerned about the non-Christians. And Max has a spark for science. Remember :
1) Single cell organisms are life. 2) Eye witness testimony isn't reliable. 3) Meaning is a human construction. — It's secret government pacts, Ancient Aliens, warp energy vs fire, the stories we tell ourselves so the numbers make sense, Carl Sagan, and the definition of life. I and U. We believe in magic and t-shirts.
***
Topic – Do you think we'll find aliens first or they'll find us?
From – No Name