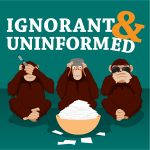 What's the difference between common courtesy, being a good person, and martyrdom? That's what we're discussing this week – oh and we've got a special guest. The delightful and dexterous Debbie Whitmore (aka Ben's wife) weighs in. Benji's on his best behavior (even with all the eye contact). Max is a crappy samaritan but a real nice guy and Hollywood just gives and gives and gives until there's nothing left. Remember :
1) Help when you see someone who needs it. 2) Pride is an awful reason to be mean to someone who's doing you a favor. 3) It's a lot harder to receive than it is to give. — It's Benji's rule for picking up hitchhikers, the gray area of morality, ego, the benefit of avoiding negative emotions, and when doing good goes bad. I and U. The white knight is here to save Christmas!
***
Topic – When's the last time you were a good samaritan and it blew up in your face?
From – Nick Albu