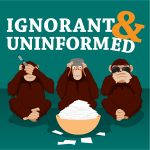 Is it all you need? Is it a second hand emotion? What kind of love are we even talking about here? Caveman? Far East? Byzantine? Dr. Zooks channels her inner Tina Turner and wants to know what love's got to do with it. Benji's got a blue aura. Hollywood's making up his own sex scale and blowing…minds. While Max is mumbling about Billie Jean. Remember :
1) Marriage makes it sweet. 2) If you love something don't let it go to art school. 3) There's a difference between love and romance. — It's the 6000 BCE dating scene, evolution and emotion, lion alimony, love languages, proper club grip, and poop decks. I and U. "He built a fire. And it was just what she needed."
***
Topic – What's love got to do, got to do with it?
From – Dr. Zooks