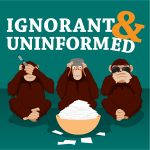 This is an adult epidose about adult themes. Max's special lady friend, Lindsay, put a topic in the bowl about sex. So you know Benji, with all his field work and John Mayer quotes, is all about it. Hollywood recalls his halcyon days as a Florida Gator while Max just tries to maintain. Rmember :
1) Timing and communication are important. 2) Pornography is to sex as the WWE is to sport. 3) Sex without pleasure is pretty much rape. — It's misconceptions, limiting beliefs, the importance of practice, stigmas and culture, the evolution of sexual desires, the dangers of anecdotal evidence, the power of names, and vulnerability and ego in the bedroom. I and U. Respectable Lady Style.
***
Topic – Is putting it in the butt the threshold where you lose respect for a woman?
From – Lindsay