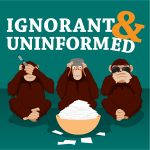 How tough are you? Could you cut off your own leg? What about an arm? Could you chew it off? That's what Tawdry Hipburn wants to know. We're down a Whitmore but up a Madonna. Not that Madonna. Our buddy, Tony Bologna, sits in and summons snakes. Benji is like Pizza The Hutt and for Max, it's been a good run, but he decides to throw in the towel. Remember :
1) In any survival scenario, the first step is always: Don't panic. 2) Bodies die from the outside in. 3) Always carry your pocket bone saw. — It's our Star Trek shirt policy, being stonewalled by a Cambodian 8 yr old, the stages of grief, exhausted resignation, and the will to survive. I and U. It's like cutting a chicken leg!
***
Topic – Could you cut off one of your own limbs to get out of a life or death situation?
From – Tawdry Hipburn