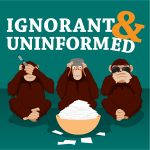 Good friend and frequent collaborator, Phil Roerbacher, wants to know who we think we are and what gives us the right. Max plucks low-hanging fruit. Benji and his moral compass are chaotic good. And Hollywood's busy wrestling his white guilt and fear of children. Remember :
1) It's a lot harder to mistreat someone if you view them as like you. 2) If you're shown a better way and choose not to take it – you're guilty. 3) One previously bad experience in a similar situation doesn't give you the right to take it out on anyone in the here and now. — It's the truth of people in power, the origins of tipping, the difference between gratuity and commission, and some interesting ideas about justice and guilt. I and U. We're like a playground covered in grease.
***
Topic – Who do you think you are? What gives you the right?
From – Phil Roerbacher